Starter Testing Equipment
ST-116 Production Testing
The ST-116 is the next generation of D&V Electronics Ltd.'s very popular ST-16, built for the new era of automotive testing.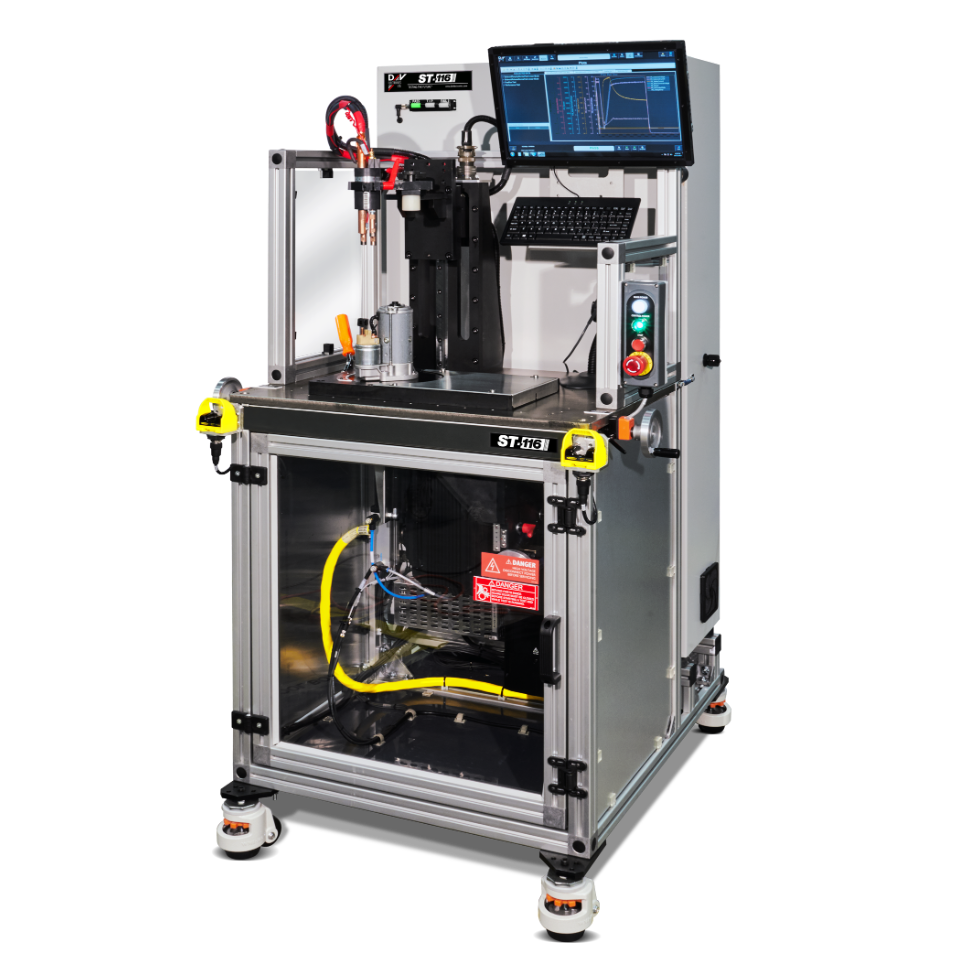 The ST-116 is built as a high speed, accurate, and robust starter motor testing system for customizable high-volume testing with automatic connections. This touch-screen PC-based machine is designed to achieve a fast test cycle time with minimal tooling change-over for End-of-Line production testing. The ST-116 is available in 200V and 400V class versions.
The ST-116 has industry leading cycle time and optimized operator part loading. Precision product diagnostics with D&V's state of the art data acquisition and processing technology. Flexible operation with manual or automatic connection tooling for a wide range of starters. Start-Stop and Change-of-Mind testing capabilities.
Features
Measures more than 40 different starter parameters including performance curve, free run current and speed, solenoid current, contact voltage drop, "R" terminal function, coast down time, magnetic seal, pull-in & hold-in voltage/current, solenoid pull-in, and release time for comprehensive production testing
Load test conditions can be set by speed, torque, or current at fixed voltage or predefined battery for testing versatility
State of the art technology with advanced diagnostic, high accuracy performance, free run speed, solenoid block and coast down (stop) tests
Completely tests the starter including solenoid, drive, pinion engagement and disengagement timing that can reveal faulty components or assembly errors
Solenoid "contact aging" function to seat the solenoid contacts for more repeatable results
Performance test by step or sweep method with inertia compensation for accurate test results
Complete performance test in less than 6 seconds reducing temperature related result variations and increased accuracy and consistency of results
Built-in digital oscilloscope and precise waveform analysis to diagnose armature, commutator and brush problems.
Scripting of test procedure provides complete control of test process
User configurable Pass and Fail labels and reports with performance curve plotting torque, power, speed and voltage
Flexible Tooling with:
Quick axial gear adjustment
Free run and block setup with no user input axial adjustments
Quick release DUT tooling rings with rotation, and adjustable locking pin
Optional adaptable contact head tooling
Contact head accommodates many starter models by rotation, adjustable XY Contacts, and adjustable height
Designed from over 15 years of experience, with operator health and safety in mind. The DUT loading point is close to the operator, providing improved ergonomics with less lifting and movement. On screen, step-by-step user configurable installation and setup instructions for error-free operation and minimal training. Effective material management. Programmable reject bin input, reject acknowledgement, marking device output, pass/fail labels and report generation. Tooling recognition by bar-coded components and hand-held scanner eliminates setup errors. Computer controlled programmable 1500 Amps starter power simulating 200 – 2000 CCA battery (0 – 30 milliohms). Computer controlled 120 Amp programmable solenoid power supply. Available in 200 V and 400 V class , 50/60 Hz. Includes standard double finger start or optional light curtain with whisker switch. Optional light stack for machine status indication in all directions.
Tooling allows for flexible rotation and indexing of starter orientation. Quick clamp tooling rings optimize model changeover timing. With pneumatic clamp and available automatic solenoid contact head with radial, rotational, and height adjustment allowing for maximum versatility and productivity.
Contact Us